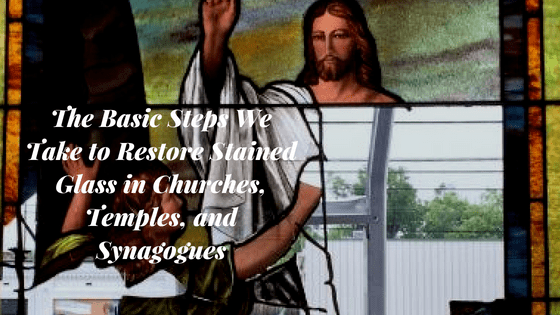 As most of the religious stained glass in churches, temples, and synagogues across the nation reach the age range of 75 to 100 years, it's vital to start considering restoration in order to continue treasuring these beautiful antique pieces. Our accredited religious stained glass restoration process can add another 100 years to your stained glass' lifespan. Your congregation and generations-to-come will thank you for restoring these relevant works of art that can be pertinent to the worship process.

Religious Stained Glass Restoration Process for Your Church, Temple, or Synagogue
We begin every restoration process with an on-site assessment in order to evaluate project size, root causes of deterioration, projected costs, and an individualized restoration plan. Once you decide to undergo restoration, we transport your stained glass panels back to our glass repair studio. From there your stained glass windows are soaked for up to two weeks in our proprietary soap blend to remove all the dirt that has built up over the past 100 years. This also allows our artisans to disassemble your stained glass to restore each individual damaged piece. We either find a perfect match from our vast inventory or have the piece custom blown. If your stained glass features painted glass, our artists hand replicate them. We also create new lead came and reinforce your stained glass with black cement. Once the black cement is set, we polish your religious stained glass and deliver it back to your church, temple, or synagogue for re-installation.
Re-Installation of Restored Religious Stained Glass for Churches, Temples, and Synagogues
We carefully reinstall your beautifully restored stained glass after proper restoration. Your congregation will be speechless when they see how luminous and fresh their beloved, symbolic stained glass looks.
For more information regarding religious stained glass restoration for your church, temple, or synagogue, please contact us or call: (720) 835-2165