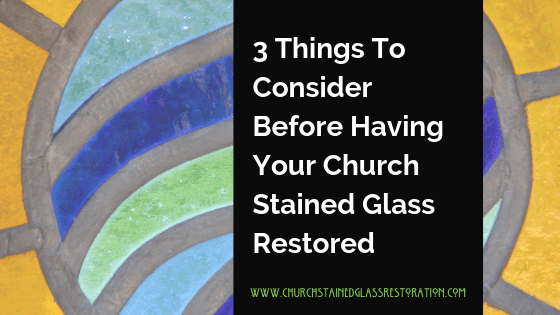 Stained Glass Restoration Tips for Churches
You may have noticed many beautiful churches across the country whose original stained glass windows have succumbed to age and the elements.  At the 80-100 year mark, even the best stained glass from the early 20th century begins to disintegrate. These fragile glass panels are too easily broken or cracked by harsh weather, frames bow over time, and the leading begins to sag noticeably.  But, as technology and expertise have advanced over time, we can now restore these crumbling monuments for another 150-200 years. This is no small feat, and we invite you to investigate how to move ahead.
What Will Your Church Stained Glass Restoration Cost?
Church stained glass restoration is delicate work, and can quickly run into the thousands.  But, the splendor restored to the church not only serves as a blessing to the congregants but preserves and draws attention to the rich historical context that surrounds that church.  When contemplating if a stained glass restoration project is right for your church, a thorough estimate is a necessity.
How Long WIll The Restoration Take?
We at Church Stained Glass Restoration understand very well the time and expertise required to completely and beautifully rejuvenate your stained glass treasures.  Please understand, that there's no royal road to accomplish this! One should consider that the repairs will take time, so please think about how temporary windows that could be in place for several months might affect daily routines.  We just want to you to be fully prepared with a complete estimate that truthfully includes the "down-time" while your stained glass windows are restored.
How Will Your Church Raise Funds For Restoration?
If the windows are badly in need of repair, large, or many,  the costs for such a project can grow pretty rapidly. An open discussion with your congregation can be a fruitful place for fundraising ideas!  At Church Stained Glass Restoration, not only have we done impeccable work for many satisfied clients, but we have been fortunate enough to work with several churches on their own fundraising efforts.  We'd love to share our ideas with you!
The processing can seem daunting and technical, but please reach out to us with any questions big or small, at Church Stained Glass Restoration can help your church recapture its due glory!