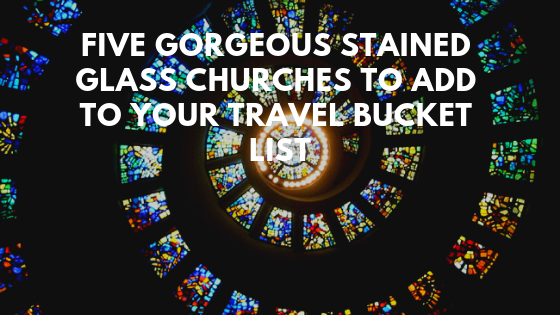 Churches have always used stained glass throughout history in an effort to teach the illiterate about the Bible. This tradition has lead to some of the most impressive historical stained glass pieces that truly are pieces of art. For art lovers and stained glass enthusiasts alike, traveling around the world to see these features in person can definitely be tempting. Our top five gorgeous stained glass churches on our bucket list should definitely be considered for your travel bucket list.
Inspiring Religious Stained Glass from Around the World
Sainte-Chapelle in Paris has 15 Gothic-style stained glass windows that are each about 50 feet in height. 1113 individual stained glass panels make up these 15 windows offering intricate detail work, each depicting a different scene from the New and Old Testaments. King's College Chapel located in the University of Cambridge has incredible narrative stained glass windows. With religious and royal motifs, these stained glass windows deliver an inspiring look for the advancements of England's Gothic art movement. The Nasir al-Mulk Mosque, also known as the Pink Mosque, located in Shiraz, Iran is one of our favorites– with beautiful, symmetric stained glass throughout its facades, the brilliant colors are truly breathtaking. The vivid colors enhance the interior's rose-colored tiles and Persian carpets. La Sagrada Familia in Barcelona has multicolor stained glass windows that range in rainbows and grand aesthetics. The Thanks-Giving Square is a non-denominal church that features a beautiful seashell shaped stained glass window filled with vibrant colors.
Preserving Your Church's Stained Glass Windows
Church Stained Glass Restoration is honored to deliver our renowned restoration process for properly preserving your church's stained glass windows. Our vision is to protect these works of art so that future generations can appreciate them as well.
For more information regarding religious stained glass restoration for your church, please contact us!