The First United Methodist Church in Leavenworth, KS
Church Stained Glass Restoration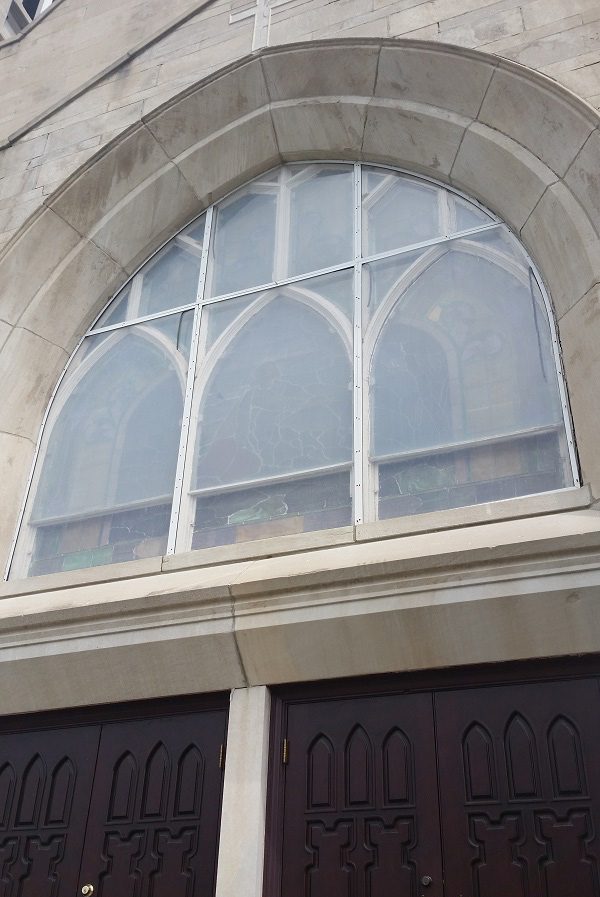 The First United Methodist Church in Leavenworth is the single oldest United Methodist church in the state of Kansas. The building itself is over 100 years old and is considered to be a historic structure. The church houses several antique stained glass windows that are hand-painted and very high quality.
Recently, the church members began to notice that their stained glass was showing some signs of deterioration. The Plexiglas covering the windows had begun to become clouded and discolored, and it prevented the beautiful stained glass from being viewed from the outside.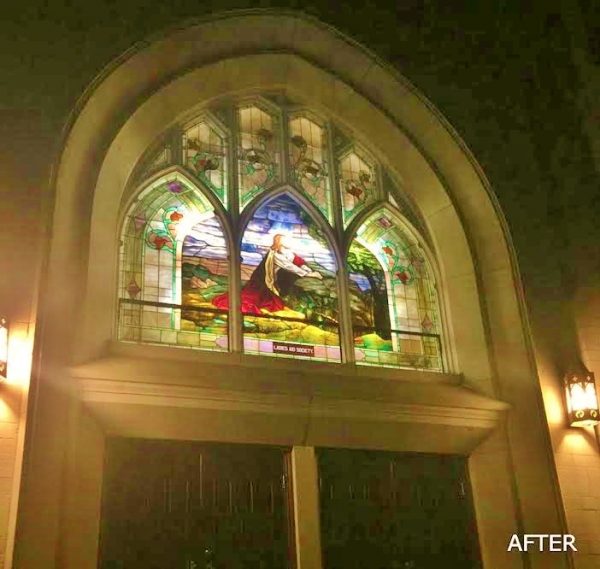 Additionally, the Plexiglas was causing heat to build up in the space between the stained glass and the Plexiglas material. This had caused the leading to warp and lose shape. Some of the panels also had a convex or concave shape because of the added pressure from the deterioration in the leading. To add to this, some of the lead was beginning to crumble and fall out of place.
The church contacted us seeking our services for the restoration of the stained glass. We met with the board members to discuss the matter and help them find a solution for their situation. In the end, we decided that offsite restoration was the best approach. We also decided it would be best to remove the exterior framing and replace the Plexiglas with individual pieces of tempered safety glass so that the stained glass would be more visible.
Carefully, we removed the stained glass and brought it back to our studio. There, the glass was soaked in an alkali cleansing bath and carefully dismantled. Prior to dismantling, we created a computer generated pattern of the original design. We used this as a blueprint for reconstructing the panel. The old lead was safely disposed of, and new lead was substituted in its place. Glass pieces that were badly broken were also replaced with new glass of a matching profile.
Once the restoration was complete, the windows were transported back to the church and reinstalled. We then added a piece of tempered safety glass over the top of the window for added protection and to replace the Plexiglas. Now, the church can once again enjoy the brilliant colors and beauty of their stained glass windows.
Bring new life and beauty to your church with Church Stained Glass Restoration from Scottish. Contact our office to speak to a designer about your project or to receive an estimate on our services.