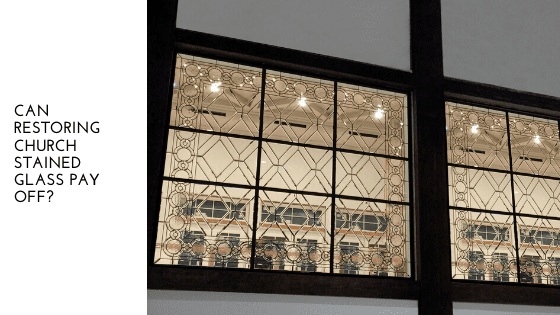 Decisions about how to spend a Church's resources can be difficult. There are so many needs and often not too much money to go around. How can you decide whether stained glass restoration is a good choice for your church?
How Church Stained Glass Restoration Pays Off
Stained glass restoration increases the property value of your church, beautifies your house of worship, and can attract new parishioners and retain existing parishioners.
Increase property value
For most churches their property is a valuable asset. Stained glass restoration can last a hundred years or more, so you know that repairing stained glass is a long term investment into the property value of your church. If you ever do move to a larger building, the chances of recouping the cost you put into stained glass windows is quite good.
Beautify your house of worship
Going to church is a peaceful and moving experience. Stained glass windows in excellent repair can contribute to this experience:
Use your windows to tell God's stories

Show respect to the house of God by keeping it in good repair

Fill your church with beautiful natural light in an array of colors

Create a timeless space
Attract new parishioners and retain old ones
Stained glass windows are one of the first things that new parishioners will notice when they are deciding whether your church is a good fit for them. Stained glass restoration can make the difference between chipped and discolored windows which detract from the experience of parishioners and a beautiful face for your church. The parishioners that you already have will be able to see that you are continuing to invest in your church.
Is church stained glass restoration worth it?
Yes! Stained glass restoration is an excellent investment into the beauty and functionality of your church with both monetary benefits and advantages that are less tangible.
Contact Us for Restoration Today
We have been repairing stained glasses in churches throughout the US for 25 years. We know how to restore stained glass of nearly any condition to make it seem brand new. Whether your stained glass is damaged by age or weather or if it has been vandalized, restoration can make it like new. Call today to learn more!