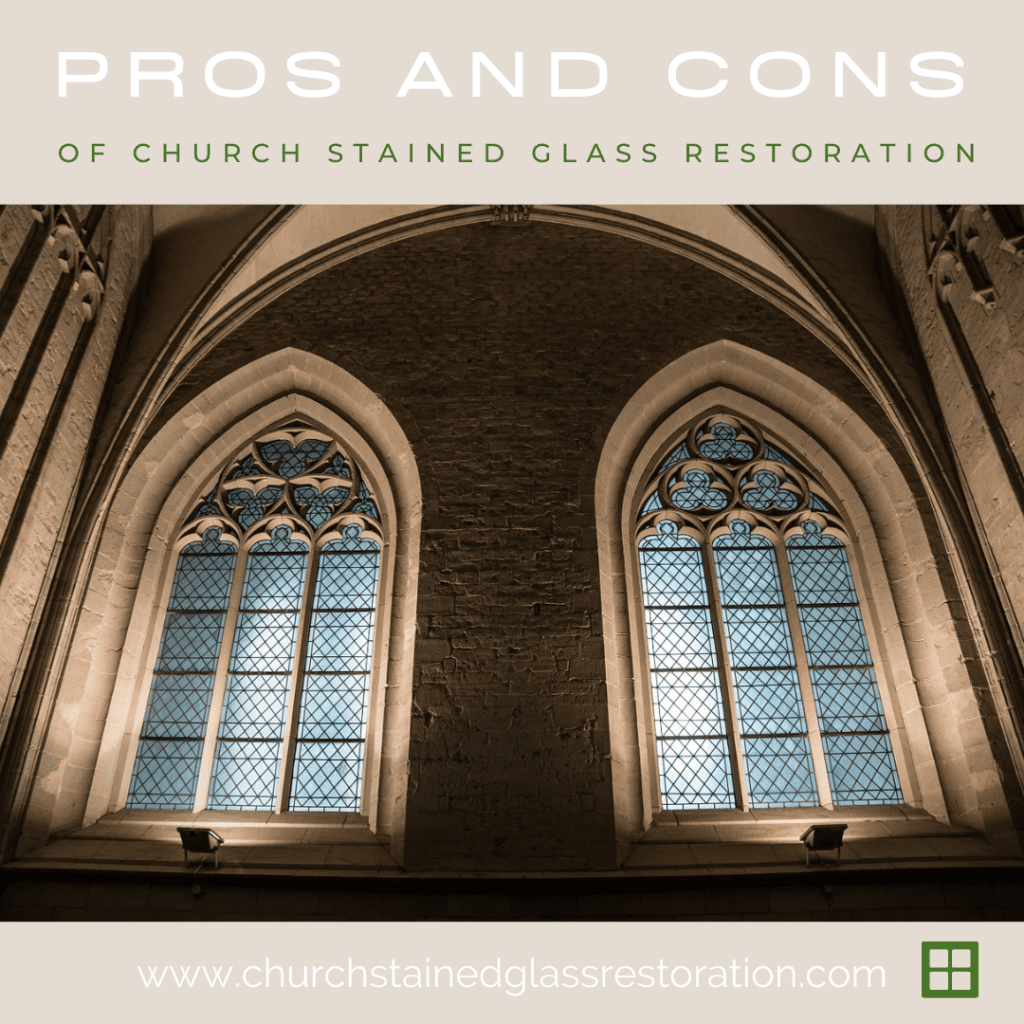 If your church is 80 years old or more and has stained glass windows, then it may be time to consider restoration. Restoring these pieces of history can help preserve their integrity and value.  However, the decision to restore is not one to take lightly.  Below are some considerations for your congregation.
Pros and Cons of Restoring Church Stained Glass
Pro: Antique Church Stained Glass Has Monetary Value
 The stained glass windows in your church may not appear to be worth a lot but they may be.  The materials used, the studio that made them, and current condition all determine how much it is worth. However, one thing is for sure– restoring old stained glass increases is a way to increase their value even more!
Pro: Antique Church Stained Glass Has Historical Value
 Stained glass from the early days of this city has a lot of historical value for churches and their communities alike. Some church stained glass is more historically valuable than others depending on which studio made it, what materials were used in construction, where your parish resides within the area, etcetera. Preserving these windows not only helps to keep local history alive but also provides a means to preserve local and parish traditions and art.
Pro: Antique Stained Glass Has Sentimental Value
One of the best things about church stained glass restoration is preserving the sentimental value.  Stained glass in churches has been a fixture throughout the years, and many congregation members really love it. By having it restored you allow congregants to hold on to memories from years past and create new ones for future generations as well!
 Con: Church Stained Glass Restoration is Expensive
 Stained glass restoration can be expensive. It all depends on the size and scope of repairs that need to happen, but it's especially true when an entire frame must be taken down or reconstructed with new materials. This cost may prove prohibitive for churches with limited funds at their disposal.  However, many times there are historical grants available from local organizations.  Also, we can guide you with fundraising ideas that we have seen work in the past.
Con: Church Stained Glass Restoration can be Time-consuming
A church stained glass restoration project often includes several windows and many square feet of repairs. This means the process is lengthy, but it also offers an opportunity to improve a building's aesthetics in ways that might not have been possible before. It takes time to match colors from over 100 years ago, so if your church is considering restoration make sure you account for having our studio remove all the damaged pieces and repair them in our studio for up to a year.
For more information on stained glass restoration and to schedule an inspection contact us today.