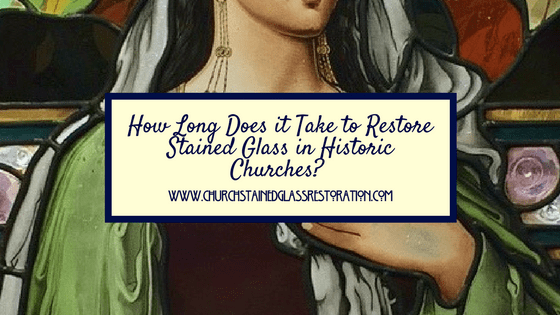 Proper restoration is required in order to preserve the beautiful religious stained glass featured throughout historic churches across the nation. These antique stained glass pieces begin to showcase sever signs of deterioration and age around the 75 year to 100 year mark. As these stained glass panels reach this age, it's important for churches to begin considering restoration. Although restoration can be a quite lengthy, time-consuming process, it can actually add another 100 years to your stained glass' life and increase your church's property equity.
Historic Church Stained Glass Restoration Process
Our local stained glass artisans begin restoration by visiting your historic church to conduct an assessment of your stained glass needs and priorities. This assessment determines underlying causes of deterioration, cost-benefit analysis, as well as project length and cost. Once you've decided to undergo restoration, we transport your stained glass windows back to our repair studio. Your stained glass windows are then bathed in our proprietary soap blend for up to two weeks. This process delicately removes any dirt or impurities built up from the last century and also allows us to remove the stained glass piece-by-piece. We then repair or replace every damaged piece of glass with a corresponding, matching one. This is either found in our inventory or custom blown. We also responsibly remove the lead came and replace it with a new mixture of lead and tin for optimal strength. This part of restoration can take up to two weeks, especially if there are hand painted features that need to be replicated and baked in our kiln. Your stained glass is then set with black cement to ensure durability. The entire process can take over a month for restoration.
Re-Installation of Your Restored Church Stained Glass
We re-install your newly restored stained glass with reinforcement bars or with an additional piece of glass if recommended in the assessment. You'll be shocked by the luminosity and beauty of your original stained glass!
For more information regarding historic church stained glass restoration, please contact us or call: (720) 835-2165