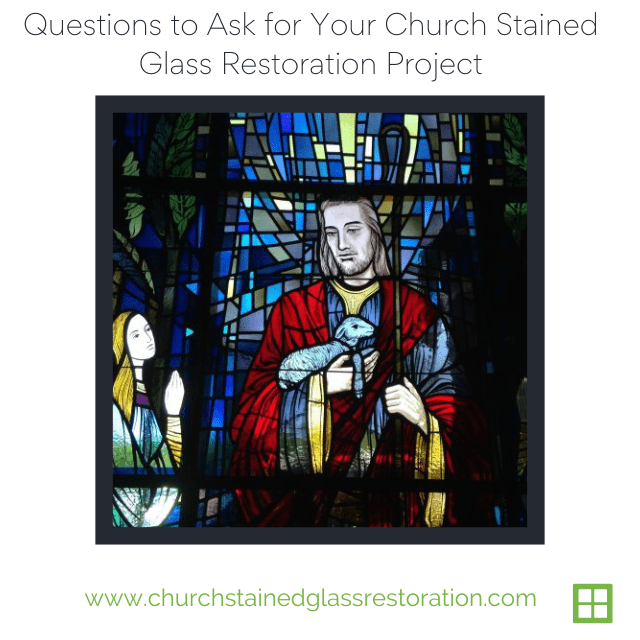 All church stained glass needs restoration at some point in its lifetime. Whether you've recently started to notice signs of damage in your church windows like cracked or missing pieces, bowing glass, or sagging lead caming, or are thinking about the future and the conservation of your stained glass, it's always a good idea to consult an expert.
Restoring stained glass is time and labor intensive. It requires a great deal of knowledge and skill, as well as a considerable financial investment. Speaking to an expert can help you gain useful insight and better understand the process.
Whether you've hired an individual or a company to handle the repairs, it's important to have a conversation with them so that you know what to expect. Below, we've listed some questions that you can use to guide your conversation.
Why Restore Your Church Stained Glass?
Before we go any further, let's talk briefly about why restoration is important. Church stained glass windows, like all works of art, are not impervious to the effects of time. If they fall into a state of disrepair they can cause issues like:
Safety hazards
Depreciating property value
Loss of an important or historic feature
Questions to Ask a Stained Glass Restoration Expert
Stained glass conservationists are very passionate about their work. Chances are, whoever you hire will be more than happy to answer any questions you have and explain their process. However, it's up to you to do the asking. Here are some questions that can help you gain additional insight and information about your project:
What's causing the deterioration of my stained glass?
What options do you recommend for addressing the repairs?
Have you worked on projects like this in the past? Can I see examples?
What is the estimated cost?
How do you prioritize historic conservation?
When do you expect to have the project completed?
Consult with an Expert
Church Stained Glass Restoration is honored to be the trusted authority for stained glass repair and restoration in the U.S. If you have questions about the process or would like to schedule a consultation, please contact our office.