Painted Church Tours In Texas
An absolute must when visiting Texas is to go and see the legendary "Painted Churches" which are the pride of the state. Painted churches are historic chapels and churches painted by German and Czech immigrants, in bright colors and bold patterns to celebrate their continued success as a pioneer and to keep spirits high in times of trouble. Better than visiting a single church– book an entire tour with the Schulenburg Chamber of Commerce. They have a wealth of knowledge about the area's painted churches and will provide you with one of the most spectacular tours Texas has to offer. They are also well rated on Trip Advisor and other review sites–so you know you will get your money's worth (typically a $10 fee) As stained glass professionals here in Texas, Church Stained Glass Restoration appreciates the preservation of such amazing historical treasures like the painted churches. So much so, that we decided to write about a few of the best churches included in the tour and their stained glass windows too.
Stained Glass Treasures In Texas Painted Churches
St. John the Baptist Catholic Church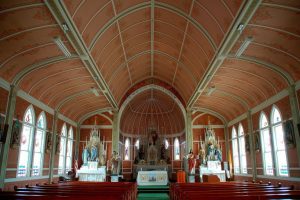 This gorgeous vintage church is Nicknamed the Pink Church. Built in 1907, it is technically the third church built on this site since the two before it was destroyed by natural disasters. The current stained glass windows are simple but breathtaking with hints of the previous Gothic Revival-style of architecture they were built in.
Saints Cyril and Methodius Church (Dubina, TX)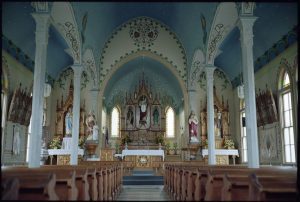 The Saints Cyril and Methodius Church were actually designed by is famed architect Leo Dielmann after the original church was destroyed in 1909 by a hurricane. Dielman's designed 100 churches in Central Texas and it is easy to see why he was so sought after as the stunning stained glass in Saints Cyril and Methodius is surrounded by the most beautiful interiors of almost any Texas painted church.
St. Mary Catholic Church (High Hill, TX)
St. Mary Catholic Church in High Hill has a brick exterior with a wooden interior unlike many other churches in the area. This is due to church leadership encouraging communities to build churches out of brick or stone since so many were destroyed by storms and fires. St. Mary was also designed by famed church architect Leo Dielmann and, in fact, was the first church designed by him. Once again his Gothic Revival style is evident by the decorative painting on the ceilings and even the stained glass in said Gothic style.
Here at Church Stained Glass Restoration, we have restored a number of churches similar to the amazing chapels above. As restoration experts, we cherish the long church and stained glass history in the state of Texas and would love to work with your church if the need is there. For more information on stained glass repair or restoration in all of Texas, contact us today!